Monday, September 19, 2016  7 am

Bright light reflects on the water. A cool breeze blows across my face. Today, unlike yesterday, a loud hum echoes from the Sunrise Blvd. bridge crossing as early risers drive to and from Highway 50.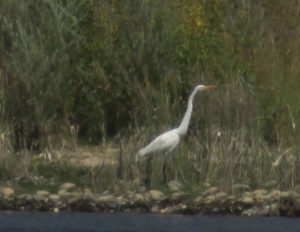 The roosters have already finished their morning wake up calls. A few stragglers are still crowing. Two men float in their boats with fishing lines cast. More cyclists ride by than the same time yesterday. Walkers are out with their dogs. As I walk onto the bridge, an egret flies in on the west side and quickly hides in the shrubbery at the shore. Ducks swim in pairs, searching for breakfast nibbles on insects. Tomorrow I will bring bread to feed them down at the boat launch ramp.
As the bright sun rises, the reflection in the water is so bright that I squint looking to the east in the direction of the boat launch ramp. I hear the distinctive calls of many birds. I can see none. Looking west I can still see the full moon.
Bicycles and even heavy footsteps vibrate the bridge underneath my feet. Walkers, runners, and dog walkers pass and say "good morning."  Some give a nod and keep their focus on walking straight ahead.
In Fair Oaks, this bridge is both an icon and a connecting point to the American River Parkway.
This bridge connects the Fair Oaks Village to the American River Parkway and the Jedediah Smith Memorial Trail.  The Parkway winds it way through 32 miles of Sacramento suburban communities, until it ends at the Old Sacramento waterfront on its west end and Folsom on the east. This bridge is the place to watch the moon rise, the sun set and wildlife and birds at play with unobstructed views.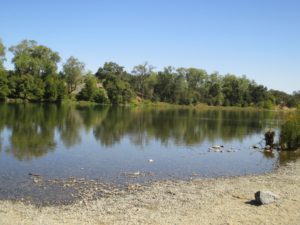 Cars used to cross Fair Oaks Bridge on their way to a railway station early in Fair Oaks history. The station is now long gone. The bridge is closed to cars.  Parking is no longer allowed on the street leading to the bridge.
I enjoy the sweet smell of morning, In a few weeks, the gentle breeze will carry the pungent odor of decaying salmon who have laid their eggs in the river and completed their short life. The heat of the summer is behind us. I have seen dew blanketing my car windshield on some mornings.
The sun has risen well over the trees – casting its warmth as the temperature rises. Morning has broken. At 9 am I head back to my car to continue my day.