Tuesday, October 17, 2017 730 am, 49 degrees
By the time I arrived at Fair Oaks Bridge this morning, the glorious orange and pinks of sunrise were already faded. I drove toward the sunrise enjoying its brilliant display by car instead. I listened to the "Fair Oaks Village symphony" informally conducted by at least a dozen chickens. Then I heard even more singing on the bridge.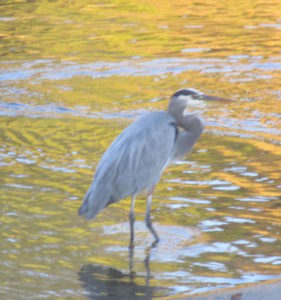 I gazed into the American River and saw small white patches of clouds reflected from above. Seven Canada Geese flew over the bridge against a backdrop of fluffy white clouds.
Fishermen were in their places, fishing nets hanging off the side of their boats and kayaks. I watched a Great Blue Heron at the boat launch ramp take a careful stroll along the riverbank until it disappeared under the bridge. Its soft blue and gray coloring blended into the landscape from a distance. Staying focused on this majestic bird took constant concentration.