Friday, February 1, 2019   52 degrees, 7 am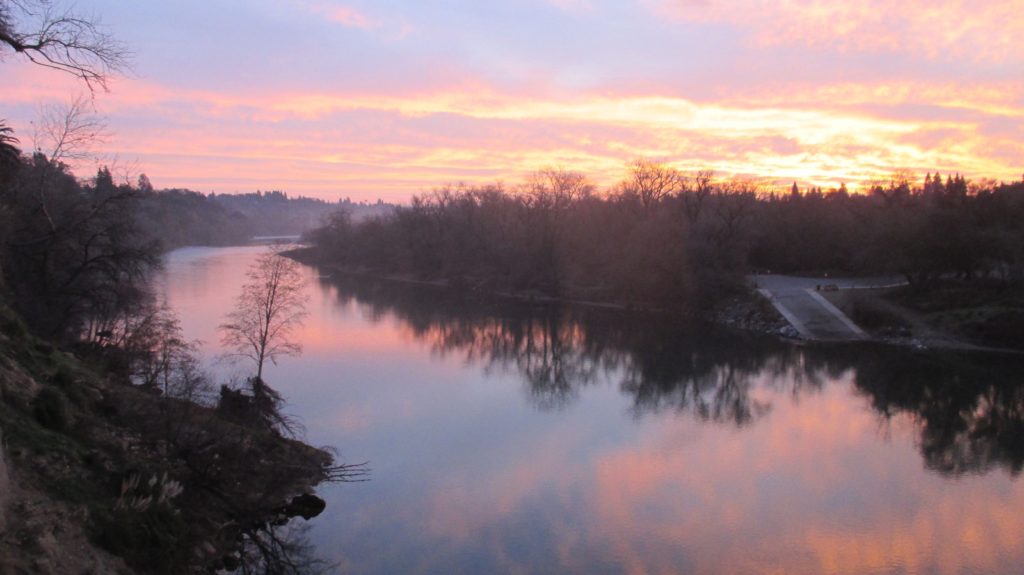 I am the only one on Fair Oaks Bridge to enjoy this glowing sunrise in shades of pink and yellow, and scattered clouds reflected in the water. Mist rises above the surface of the water far off around the bend as I look east. I feel the air heavy with moisture. Both the river and the air are still.
One cyclist speeds past me, focused straight ahead, One chicken repeatedly calls out on Bridge Street. Many birds greet the morning with songs. I hear chirps, some of them sound like rattling – zzzzzzz. A woman arrives walking her dog. She focuses straight ahead and says nothing as she passes.
I always wonder why so many people walk, run or cycle across this bridge without looking left or right. Some focus on their conversations, others intently hold back their dogs. Very few stop and watch the scene. Some share a quiet good morning greeting as they pass.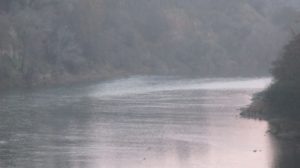 A group of ducks emerge from their evening hiding place to swim quietly across the river, each leaving  small ripples in the water behind them as they swim. No pigeons are out this morning. I have not seen pigeons in many days. No tiny bird lands to call out its good morning song on the bridge truss over my head.
I hear the loud honk of Canada Geese from a long distance away. Then six geese appear, reminding me of arrowheads shooting across the sky. They are followed shortly by two more geese In seconds, they vanish. Their sound continues to carry through the still air. An Egret soars quietly under the bridge and continues flying around the bend. One more cyclist passes by wearing shorts – I wonder why shorts?
As I stand on the bridge watching the sky, the glowing colors of sunrise reflected through dense clouds fade to a pale pastel orange visible at the horizon. I hear birds continue greeting the morning with their songs.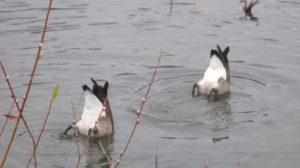 I walk to the boat launch ramp to enjoy a different view of the river. A large group of cyclists cross the bridge talking so loudly, I hear their voices on the boat ramp. Seagulls have left this part of the river. The fall salmon run ended weeks ago. The few seagulls that have stayed spend their days upriver where they are more likely to find a plentiful supply of food.
Several ducks emerge from the riverbank. Canada Geese are already out. Three dunk into the water, quietly searching for breakfast. I watch them paddle their webbed feet to help keep them afloat.
As I watch the geese and ducks during their morning rituals, I hear the sound of a single duck quack. And quack and quack. She is relentless. I wonder is she the same one I heard last January and February that kept up her calls without stopping as long as she was swimming? Long after she is out of sight, she continues to swim upriver calling without stopping. What is she saying?
(Even when she was one out of two pairs of ducks a year ago, she quacked while the others were silent.) As soon as the Canada Geese begin honking, her voice is barely audible. The geese quiet down. She keeps on quacking. I hear her calls continue as she swims upriver 50 yards and more. I listen intently as she continues her quacks until her voice fades into the distance.