Saturday, February 23, 2019, 730 am, 37 degrees
A cold and very frosty morning! Slipper ice lines the deck of the bridge.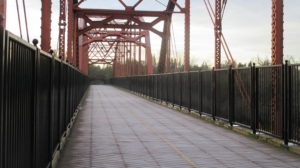 Sunrise emerges behind clouds that envelop the sky in a huge, gray blanket. A quiet and peaceful morning. A few walkers are out and we are all bundled in jackets and gloves.
I hear birds and wildlife that remain unseen. The river seems lower than this morning – water is periodically being released from Folsom and Nimbus Dams during winter rains raising the level of the river and expanding it on the riverbanks and up the boat launch ramp. I hear the sound of the water and the wind as my face is chilled in the morning air.