Link here to complete Google contact form. Complete contact information to be advised when registration opens for class. Be sure to write class title in your Comments.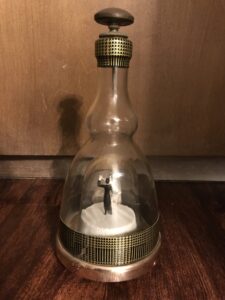 4-Week Course, 2 hours each session, Online $75
Everyone has a story to share. Stories define our lives and relationships with family members and friends. Where to begin? How to build an engaging and meaningful story? This course uses mind-mapping strategies and memory prompts to help identify, develop and organize your stories around a series of topics. Practice looking at stories from different perspectives, and learn what details to include that make stories come alive. Class features writing time during each session. Informational handouts are provided as reference
The musical wine bottle photo  is one of my meaningful objects. The female dancer is dressed as a ballerina. As the music plays, the couple dances.

The bottle belonged to my grandmother, Nanny. She was "everyone's grandmother." I created a series of stories about her and assembled them into a bound album. Later I created a short video to share more of our family's memories of her.