Sunday, November 6, 2016, 11 am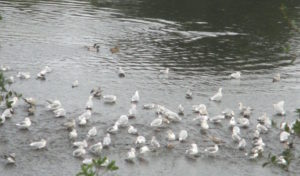 As I arrive on my bike at the Fair Oaks Bridge, I see a flock of 50 seagulls gather on the north side of the river. More fly in to join them.
Seagulls gather at two prime locations along the river waiting for their chance to nibble on remnants of salmon after spawning. Turkey vultures circle overhead. All looking for salmon.
The river's resident egret flies in, squawks and lands on the smooth riverbank searching for food. The wildlife living at the American River are left alone with no fishing allowed. A few salmon jump and splash down. A warm day for riding, despite the cloud cover.
I wonder is the fish ladder open yet? I ride to the Nimbus Fish Hatchery to find out. Yes! Salmon have returned home. Salmon are leaping into the ladder from the open gate. A group of salmon all already crowding the holding tank at the top of the fish ladder – the last stop before salmon move into the hatchery for spawning. Crowds of people line the fish ladder to watch each salmon leap each one level upward and capture the moments in photos.Read more