Thursday October 18, 2016, 80 degrees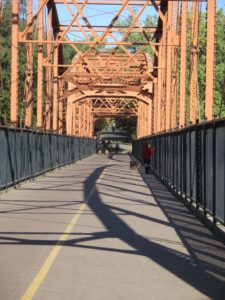 As I arrive on my bike this afternoon, I notice the sun has flipped to the opposite side of the bridge this afternoon as the sun travels to the western sky. The river is quiet and weather is a warm 80 degrees – a warm day for fall. Resident ducks are enjoying a lazy day at the river. Birds are gone. After their morning flyover, I see birds spending their days gathered on the river scouting for food.
A gentle breeze carries the sound of rap music from visitors gathering on the riverbank to the east side of the bridge. This large open spot on the riverbank is among the most popular "hangouts" for groups to gather for parties on the river.
Years ago, when I first started visiting the Fair Oaks Bridge. Nearly every evening for months on end, I heard the beat of bongo drums from the riverbank.