November 22, 2016 Tuesday, 645 am 42 degrees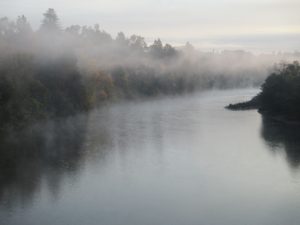 The sky is awash with shades of pink fading in the sky. As the pink turns slowly gray, I see the mist hovering over the water as if this is Brigadoon hiding its secrets. The southern sky is woven with pale stripes as the sun rises. The mist gently moves along the river towards the bridge. The movement so gentle it reminds me of fog blowing across a stage in a theater in unseen currents of air.
I wear gloves. My hands still feel like ice. The boat launch ramp is empty. A group of four ducks are just now coming out to swim. A single seagull flies west over the bridge. The little bird that used to greet me every morning has returned to sit at the top of the bridge frame and sing its song, "Ti Too! Ti Too!" Geese fly under the bridge, honking, honking loudly, landed on the west side of the bridge in their traditional water skiing style.
Alas, two empty beer cans sit on the bridge. Runners arrive wearing hats, jackets and gloves. The bridge rails are covered with dew. The deck is moist enough to reveal footsteps. An intact spider web is suspended between two bridge rails. Six dead salmon float next to the riverbank to become food for hungry gulls, as Canada Geese and turkey vultures monitor the river.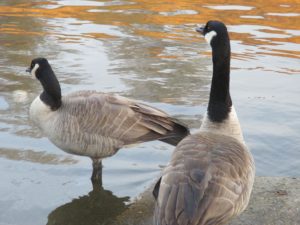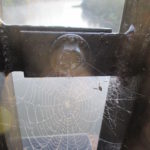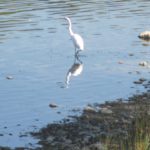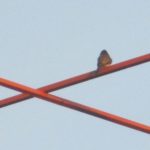 I walk to the boat launch ramp and stand alongside two Canada Geese pondering what they will do today. One turns around and spies the river. The other stands and whispers, "Honk, honk" to me over and over again. What a treat it would be to know geese language. The best I can do is say good morning in "people speak." The river's resident Egret is sitting on the north shore in its usual spot.
A single seagull flies over my head. Its circular flight path is 100 yards long, over and over again. The gull is far too high above me to hear the flap of its wings. Yet I do hear it whistle as it circles above me six times. The two Canada Geese decide to fly over the river and vanish into the mist. Ducks appear, land in the water and quickly liftoff once again to fly away to another part of the river corridor.
I leave the boat ramp and walk back over the bridge, always giving the river a last glance for the day to hold it in my memory. Arriving at my car at 810 am, the morning temperature has only warmed to 49 degrees.