Thursday, September 22, 2016, 7:15 am

By the time I arrive at Fair Oaks Bridge at 7:15 am, the sun has already risen high above the trees, glowing yellow and hot in a cloudless sky.  The bridge is already filled with sunlight.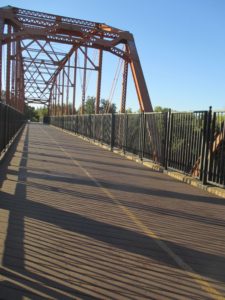 Morning walkers pass by. We exchange good mornings and smiles. Garage doors lift and shut as residents of the village drive on to the street and away to begin their workday.
A young boy alongside in a boat struggles with his fishing pole sitting in one of the boats alongside two men who are also fishing. The boy gives up, tosses the pole and begins to explore the boat, walking back and forth, checking its bottom for something interesting to examine
Five boats filled with fisherman cast their lines into the cloudy green water. The boats sit at some distance apart on the east side of the bridge. Thousands of salmon will be arriving  soon, jumping randomly out the water. They have not yet arrived from their long journey from the Pacific, through the Delta sloughs, up the Sacramento River and into the American River. Many will end their journey near the Fair Oaks Bridge.Read more