Tuesday, September 20, 2016, 7 am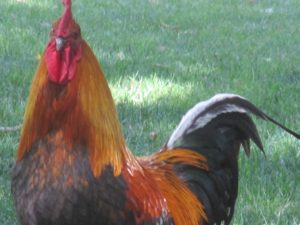 Roosters are still calling "good morning" still hidden for the night in trees and shrubs. Some are very early risers and wander about in the street.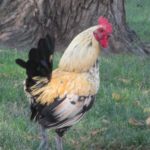 A cloudless sky. I arrive at 7 am wearing a T-shirt and shorts and put down my backpack. A lone kayaker approaches boat dock after an early morning row. One lone boat – 2 men – casting their fishing rods. I see the same woman jogging today. I wonder how many people I will see that come here as walkers, joggers or dog walkers every day? The bridge is quiet so far, with few cyclists or walkers.
Ducks have not entered the water yet this morning. They hide and sleep in a little longer. Birds sit on the upper bridge frame surveying the landscape – peep, peep. Ducks come out searching for breakfast. Dribblers turn tail side up to take a look under water. Just like a floating buoy, they bob back up and their tail flops down. Dive. Heads up, bubbles circle their heads and down they go again.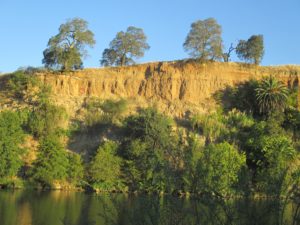 The sun rises over the trees, casting light on the Fair Oaks Bluffs on the north side of the American River. The American River Parkway is called the "Jewel of Sacramento" and the bluffs, "The Crown." Oak trees hang on the bluffs. Parts of their root systems are exposed and hang loosely over the cliff edge. What species of tree is hanging over?
An egret flies across the river low and slow and dives under a bush.
Water is shallow and a deep emerald green and completely opaque. As the water ripples, the sun reflects fuzzy shadows of the hillside bluff in the river. I stay awhile longer. As the shadows change with the direction of the sun, I know this is my clue to leave this peaceful place and begin the rest of my day.