Thursday, February 28, 2019, 730 am, 46 degrees
On this chilly morning, I am alone to listen to the gentle sounds of birds waking up the morning with songs. Again, I hear the female Mallard I hear many days at Fair Oaks Bridge. Wonder what she could be quacking about this time?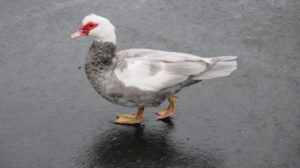 Walking to the boat launch ramp, I see the water level continues to expand beyond its usual boarders at the riverbank. The bike path is closed at the parking lot near the boat launch ramp.
The Muscovy duck and a partner walk up the ramp expecting food when they see me. They quietly turn to face the river and ponder where to go next. It seems that they are staring at the swollen river and bare riverbanks and left wondering. Then with a great whoosh of feathers, both ducks rise up and fly to the other side where they vanish from sight.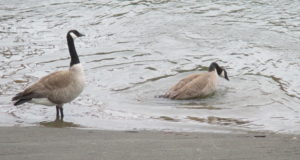 Two Canada Geese arrive, skidding into the river before approaching the boat ramp. Shortly after the first geese arrive, two more arrive, honking wildly.
The first two quickly argue with the new arrivals, flap their wings and squawk. The intruders get the message to scram and fly away in an angry huff, honking all the way.
Finding nothing to eat at the ramp, the geese approach me expecting a handout. I have nothing to share. More geese fly in heard and unseen. I hear two Canada Geese honking behind me. They round the bend of the river unseen, honking loudly. One duck sits in the middle of the river corridor and lets the rapid current carry it downstream and under the Fair Oaks Bridge. Another arrives minutes later, dives, pops back up and continues its floating adventure downstream.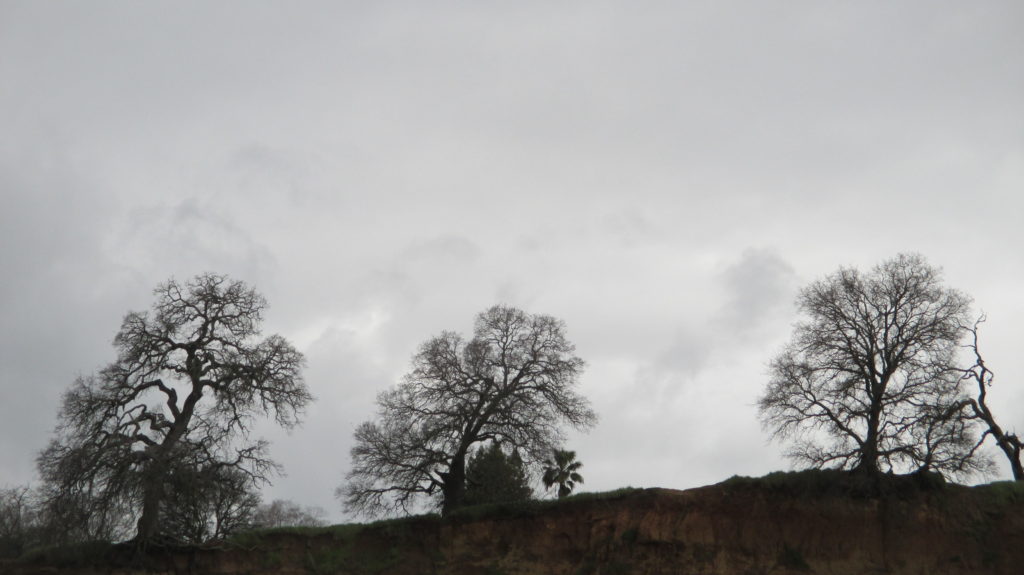 The natural world has its own rhythms and it teaches us to be patient. Nature is no hurry.
Even as I stand and listen to the swoosh of swiftly moving water, the ongoing buzz of traffic from Sunrise Blvd. bridge and the occasional honking of Canada Geese in the distance, the setting is still peaceful and quiet. No chilling wind blows on my face. I stay standing on the boat ramp looking and listening. I stand still to allow this peaceful experience to enter my body and relax the tenseness and the stress that lies within.