Tuesday, October 11, 2016 – part two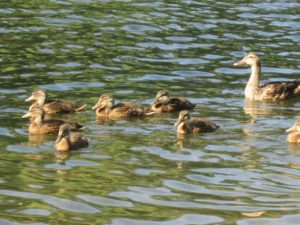 As I stand looking at the river, I see a man that could be a grandfather walking with his young grandson. My mind instantly wanders. I wonder what lies ahead for salmon in this boy's lifetime? What is the future for all wildlife that depends on the health of the American River – and rivers everywhere when the morning begins as a new day.
I see cyclists crossing the Hazel Avenue Bridge – a newly expanded and modernized bridge to accommodate additional cars. I see a complex network of structures – a bridge for cars and bicycle trails, the dam on one side and the weir on the other. Looking at this network reminds me that I am still in an urban area congested with traffic, people, businesses, retailers and a host of other community services and amenities. This place is less than 20 miles from city, county and state government leaders who make long term decisions that affect the health of this river and all other California rivers.
These intersections on the river where salmon come home, cyclists ride, and people drive, is part of the larger story of our environmental challenges – water supply, climate change, urbanization, noise and sustaining healthy habitats.  Yet, here where the salmon come home presents so many opportunities to inform, educate and inspire positive change.