Saturday, November 12, 2016, 730 am 54 degrees
I love to hear roosters sing in the morning as I drive into Fair Oaks Village! No better wake up call.
Arriving at 730 is still early. Yet with Pacific Standard Time, I still feel like the morning activities are an hour later. I doubt the roosters know the difference. The sun is far above the horizon. The temperature is still 54 degrees and feels warm.
The little bird that used to greet me each morning with "ti too, ti too" has returned for a brief good morning greeting – it stays two minutes and flies away.
The sun shines brightly on the bridge deck already this morning. I  always watch the changing shadows on the bridge as the sun moves over.  Air feels fresh and crisp. Today, unlike other days, the bridge deck and rails are completely dry. Not a drop of moisture anywhere.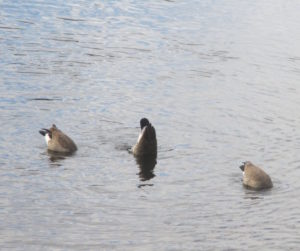 River is still as can be. A few ducks swim slowly through the water. I find random spider webs attached to the bridge rails. Occasionally a salmon leaps high to form a series of ever expanding concentric circles, as if a pebble dropped into the river. Seagulls call in the distance. Ducks fly in and land as if they are on water skis. Canada Geese fly in from the east and fly under the bridge honking until they glide in for a landing. A Great Blue Heron flies in to sit on a rock at the edge of the water.
The buzz of a motorcycle carries for a mile in the wind. When cyclists cross the bridge, it sounds the same as a car's flat tire, bump, bump, bumping over the deck. The morning has warmed to 58 degrees by the time I return to my car at 820. The roosters have flown into the streets and the park to sing their good morning songs.