Sunday, October 15, 2017   1:30 pm
Nimbus Hatchery Fish Ladder Opens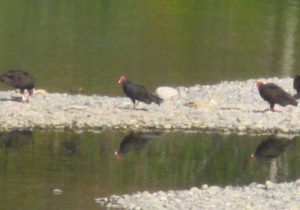 During an afternoon bicycle ride, I go directly to a narrow section of the American River shallow enough for salmon to spawn and ducks dive for tasty tidbits. No one there yet. The picnic area facing a small island is a favorite feeding zone for seagulls. Indeed, 60 of them are sitting in the water and waiting to eat.
Later in the season, 100 seagulls will be gathered here. Since mid-October is still early in the season, these gulls maybe the "early birds."
The Nimbus Fish Hatchery opened the fish ladder and filled it with water. Two dozen large, red and decaying salmon swim at the top level delighting visitors of all ages. Fishing season ends October 31. Time is running out to make a catch.
The river canyon at the weir (barrier stopping salmon from swimming any farther up river.) is as steep as the Fair Oaks Bluffs. Yet, some still climb down to risk fishing on the cliff. They get a rude surprise when the Game Warden catches them where they don't belong, and fishing in a prohibited area.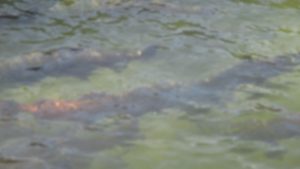 Fishermen continue to fish and catch salmon at the Jim's Bridge, Fair Oaks Bridge and farther upstream. Yet, I see very little jumping out of the water yet. Will the salmon run be strong this year considering increasing challenges to their habitat?
My last stop riding home is Jim's Bridge where Mallards love to hang out. I watch them dunk and dive for food.
Each duck paddles it webbed feet, sometimes doing a little dance to move around underwater dirt, then a straight vertical dive for about five seconds and comes up with something to nibble on.
At the hint of food somewhere else, ducks rise in unison, flap their wings as fast as they can possibly move and fly from one side of the river to the other. Could be people standing and throwing bread, or other ducks finding nibbles on the opposite shore, ducks rise up and fly in a great hurry to land with a splash on their webbed skis.