Monday, April 15, 2019   52 degrees, 630 am
                        A cool wind blows under a dense blanket of clouds. Thin strips of sunlight shine through clouds.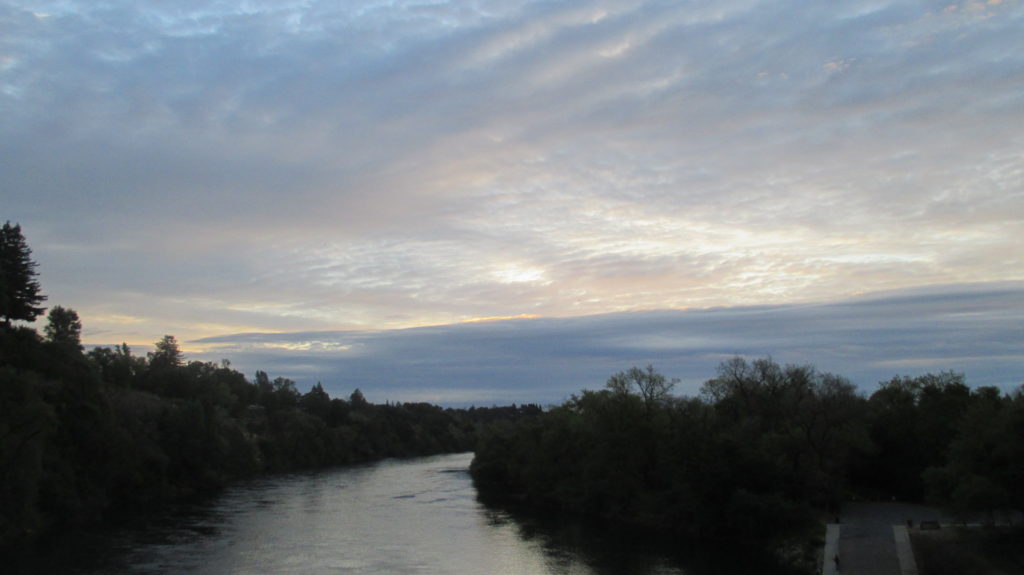 Birds greet the morning with songs as they sit in nearby trees and later fly as groups in geometric patterns across the American River corridor. A single unseen pigeon coos. A lone rooster crows from Bridge Street. It walks on to the bridge searching for something to eat and continues to call its good morning song.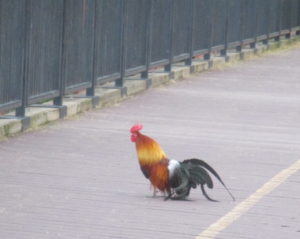 The rooster wanders the bridge deck and lingers on Bridge Street alone, while dozens of other chickens and roosters roam and crow in parks, streets, sidewalks and fence tops in Fair Oaks Village three blocks up the hill.
I wonder about the mother hen that used to search for breakfast and hide in bushes alongside the rooster. She was mother to five chicks, several months ago. As the chicks grew in size, I also saw fewer of them. Then there were two "adolescent" chicks with the mother hen and rooster – then one. Now the rooster is the only one prowling the street. I can only guess that predators ate them, one by one.
As I watch the glistening blue gray sky and the swirling speed of the river moving downstream, two Canada Geese raise their voices as they emerge from hiding in the riverbank and fly away. More geese are honking loudly in the distance on the western side of Fair Oaks Bridge. Few ducks have emerged yet this morning. The river feels empty. Two men stand on the riverbank to fish.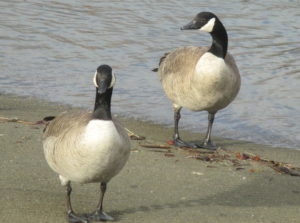 During brief walks along the American River Parkway on Saturday and Sunday morning, birds crowded trees along the bicycle trail to sing good morning. Three Canada Geese arrived honking loudly, circling the bridge and the boat launch ramp and kept on honking for several minutes. I always wonder if they are arguing about where to land or where is the best place for breakfast?
Listen to geese as they circle the sky alongside Fair Oaks Bridge. Bird song recordings were too soft to be heard.